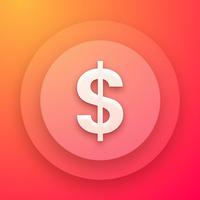 Blinq: Simple Expense Tracker Spendings Analytics
$0.99
Blinq: Simple Expense Tracker Spendings Analytics Description
***Featured on App Advice***
*** Featured as one of the best apps of 2016 by AntyApps.pl***


Blinq allows you to keep track of your expenses easily and quickly. It's an entry point to money saving, the easiest way to keep your home budget balanced.

The app combines pragmatic approach to personal finances and an intuitive UI to help you keep track of your personal finances without struggle. Every time, everywhere, in a blink of an eye.

Blinq is a personal finance journal for a busy people.

Thanks to Apple Watch companion app an build-in force touch options it enables you to save an expense in literally 5 seconds straight from your springboard or wrist.


Features

- The easiest, quickest and most intuitive way to keep track of your finances
- Add your expenses quickly
- Customise budgets/spending categories to suit your needs
- Track your spending history on beautifully designed charts
- Learn where and when your money is leaking and save it

- Use touch ID to secure your personal data
- Choose your currency
- Edit, delete and add custom expense categories
- Edit and delete expenses
- Beautiful and intuitive UI
- No registration needed
- Apple Watch companion app
- Made with Swift 3


What's the story?

Financial security is one of the keys to stress-free life. Yet, many people struggle to keep their funds balanced because they don't understand their personal finances. Keeping track of your spendings is a key to learn where and when your money leaks and, in the end, saving them.

People fail in keeping track of their finances because it's difficult and time consuming. Personal finance apps tend to be confusing and overcomplicated when most of us need quick and efficient tool instead.

Blinq solves this problem. As cliche as it may sound we believe that because of its simplicity Blinq is an one of a kind app: It makes you think about your purchases while making it as quick and easy as possible. It's a powerful tool for busy people.
Blinq: Simple Expense Tracker Spendings Analytics 1.5 Update
- Redesigned UX/UI
- New Tab Bar based navigation
- Ability to delete/edit saved expenses
- Customisable budget display (spent/remaining)
- Better settings section with "contact developer" function
- New App Icon
More