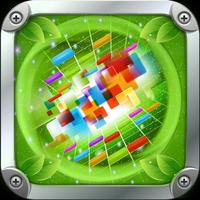 Block Puzzle Merge
Not Available
Removed
from the App Store
Screenshots for iPhone
More Screenshots for iPad
Block Puzzle Merge Description
Block Puzzle Merge is an innovative and addictive game! Game interface is very friendly and simple to use for all user of all ages. Just enjoy this puzzle game with your family.

Simply logic, easy to learn and play. When three blocks with the same color are next to each other, they will automatically be connected. Touch the connected blocks to merge them and enjoy for hours with addicting and exciting logic puzzles in Block Blitz!

Have a good time with Block Puzzle Merge. The game will never disappoint you! Crush them all!

Beware! Block Puzzle Merge can cause a mania, once you start, you'll be hooked.
===============================

HOW TO PLAY:
- Match-3: Tap on 3 or more blocks connected to merge into one.
- The game will end if there is no more move or the timer progress bar is elapsed.
- Don't forget to keep your eyes on timer progress bar and don't let it empty.
- Don't forget to keep your eyes on the board. No more move no more play.
- For Crush mode: Race against the time, and don't waste a single second! Destroy all the tiles color behind the block. When all of them are eliminated, you will get more bonus time. Use the items wisely to eliminated all same color blocks!
- For Classic mode: Enjoy unlimited game-play, merge to bomb and BOOM! Explode all the blocks around! Just break as much as possible block formed by carefully tap. The goal of this mode is no goal at all, just tap, tap and enjoy the game.
===============================

FEATURES:
- Two game modes: Crush, Classic.
- Simple rules and easy gameplay, just tap and tap.
- Game center integration.
- Smooth animation.
- We're listening to you.
- Nice sound and music.
- Auto save game so that you can continue whenever you want.
- Beautiful and stunning graphics.
- New innovation game-play logic.
===============================

If you love match-3 games, then Block Puzzle Merge with totally innovative gameplay is for you! Have fun and enjoy the game.

Thanks for your support.

Best wishes to you.