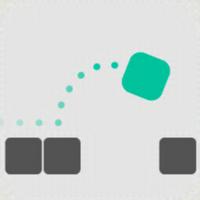 Blocky Flow – Block Jump Game
Free Get
Screenshots for iPhone
More Screenshots for iPad
Blocky Flow – Block Jump Game Description
Blocky Flow – Block Jump Game is our newest and most exciting puzzle game for all ages! Blocky Flow challenges your logic, reflex, and timing. To win the puzzle, you need to be aware of the law of physic and the perfect timing to make the jump and cross the road safely and precisely. Are you curious? Download this tricky test and see if you can solve all of our block puzzles now!
There are a lot of one tap trampoline games where you make the ball jump with a tap: from the ones with the rolly vortex, snake vs blocks, stack jump, crossy roads, or dune. There are so many games have neon bright pixel colors that hurt our eyes and make us feel dizzy. That's why we decide to create a better version, with better game graphic, but still or even more addictive and exciting than the classic arcade trampoline games.
Block Flow has a very simple, modern, but futuristic game design. The block pixel colors are solid and contrast with the screen background for easier viewing. It's colorful but it doesn't distract from the objective of the game. This type of game design is quite popular because it helps people concentrate while still enjoying the design of the game. You definitely don't want distraction when you do a tricky shot/ jump across the stack of blocks.
GAMEPLAY: on the screen you will see bridges, roads, and a color block. When the color block hits the blank colored road, it will light it up. Your task is to direct the fall of the color block to light up all the blank roads. To do this, you must direct where it falls and tap to make it jump at the right time. The block movement follows the law of physic. Sounds challenging? It's definitely a smart test for a brainiac!
===========================================
FEATURES OF BLOCKY FLOW – BLOCKY JUMP GAME:
===========================================
- Simple one tap game that is easy to play but hard to master.
- Over 100 levels with different color road schemes on every level.
- Realistic physic mechanism.
- Futuristic, modern, and minimalist game design.
- Unique game concept that challenge your thinking & precision.
So, fire up your brain and try to solve our block trampoline game now!
---
We really want to hear from you! Feedback from our users is essential to help us develop better games and improve existing ones. That's why we encourage you to write to us through email if you have any input or if you encounter any bug when you play Block Stack Jump.
Like to play this tricky test? Send it to your friends! Let them know about this smart test puzzle and solve our impossible road puzzles together!
Blocky Flow – Block Jump Game 1.0.7 Update