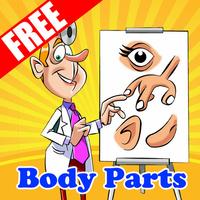 Body Parts Reading Vocabulary for Kindergarten
Free Get
Body Parts Reading Vocabulary for Kindergarten Description
This Free My body parts for preschoolers and kindergarteners app is really a great educational application for both Preschool and Kindergarten. In fact, children can learn body parts for preschool using various songs, games or even other activities and this body parts learning app is also one of an important tool to absolutely helps children develop an appreciation for their body and a confidence in themeselves which motivates them to reach new heights.
if parents start emphasizing this a bit more in early childhood, kids will be more inclined to cherish and take care of their bodies through life! This "My body parts for preschoolers and kindergarteners" application also provides fun fact and adorable image for each part.
KiddyPop in addition has many other interesting topics about educational and learning applications. We consistently create useful and practical Apps, so simply follow KiddyPop for updated new coming application as the 3 following methods :-

Check out our website: http://www.KiddyPop.com
Like us on Facebook: http://facebook.com/kiddypoppage
Subscribe our channel on YouTube:
https://www.youtube.com/channel/UC-TlhsD5JGHBbRh3EwiXYcA/videos

Ready for the most useful body parts for preschoolers and kindergarteners learning application!!!
Body Parts Reading Vocabulary for Kindergarten 1.0 Update