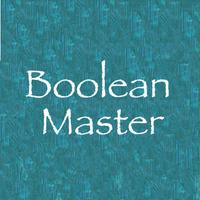 Boolean Master
Free Get
Boolean Master Description
Boolean Master is a logic puzzle which requires you to connect sequences of lights to produce a Goal sequence.
Games have two or three initial sequences. You are provided with gates (And, Or, Not, Xor, Nand, Nor) to which sequences can connect to produce new sequences.
Use as many gates as you wish.
The 
score is based on time, and the lower the score the more stars you get.
Boolean Master 1.1 Update
Version 1.1 includes a How To Play button on the main screen which provides a step-by-step tutorial on how to play the game in general and how to solve level 0002 in particular.
It also includes a Boolean Help button on the main screen which describes in detail how each of the gates combine their inputs to produce their output.
This help on the gates is also available from within a game.
In addition, this version will record a screen shot of your solution when you complete a level. This screenshot can be viewed from the scores screen.
More