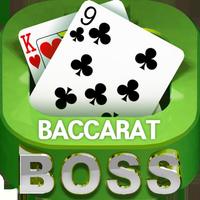 Boss Baccarat
Not Available
Removed
from the App Store
Boss Baccarat Description
Unparalleled level of thrill and entertainment! Experience The Baccarat

We are Redefining the standard of excellence!

You demanded the best, here is our response for it.
Be drawn into the real live casino­ like presence and sensational interactive experience.



[Game Features]

● Through countless hours of focus group and brainstorming with professional players, experts in the industry, we are proud to present the next generation of mobile interactive Baccarat, Blackjack.


Single Player Games are history. Embrace the dawn of new age. This is the next generation of stunning multi­player interactive casino games and poker entertainment.The Baccarat


● Utilization of the latest HD 3D graphics and User experience. Be thrilled by live ­like Baccarat squeezing card open system.


- At The Baccarat, we bring the real casino baccarat gaming experience to your mobile devices. Now you can squeeze open the cards just like in real casinos, 360 degrees of freedom to rotate, squeeze and win!


- We have not forgotten critical suggestions and recommendation of professionals and experts to innovate true-like blackjack gaming experience.


- Spin, spin away on event slot machines to win bonus, non­stop fun at The Baccarat



● Perfecting the Luxury Casino Gaming Experience


- Vivid squeeze Baccarat & Blackjack, lavishing and flashy graphical UX of 3D Poker!

- We would like to make a clear statment that boring single player card games are dead. Welcome the new age of multi­player interactive casino gaming. Invite and play with your friends or make new online friends.

- Communicating with other players via fun and variety of emoticon can make the game play much more fun! Try it yourself.

- Our in-app customer support team is very quick and responsive to customers. All your questions and issues will be solved right away.




● VIP services

- 24/7 Fast customer service
- Offer Every new event mission
- Support team will investigate based on the details provided to respond within 48 hours.


Official Webpage: http://newbosscasino.com
facebook: facebook.com/bossgame365
Support: support@newbosscasino.com


At The Baccarat, we are committed to bring to our patrons more fun, more thrills, more exciting casino gaming experience.


● Fun­-filled thrill and exciting entertainment above and beyond your imagination!
Brought to you by TEAM NEVER LOSE & Summer Snow Mobile Inc for game development and publishing for The Baccarat

Never settle for boring mediocre level and quality. Demand for Better Entertainment!