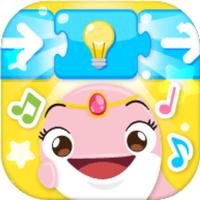 Boto Lalla Coding Theory
Not Available
Removed
from the App Store
Screenshots for iPhone
More Screenshots for iPad
Boto Lalla Coding Theory Description
Boto the Pink Dolphin's Lalla Coding game created by a professional coding teacher and an actual mom
Boto the Pink Dolphin available now!

Boto and friends are playing at Bao's house. Everyone is happy and dancing together.
Suddenly, they find out the strange sounds coming from all parts of the village!
Let's find out where the sound is coming from with Dr. Turtle.
Match both the quiz and the fun mission of Lallabot then you can find out where the sound is coming from.

■ What is Boto the Pink Dolphin?
'Boto the Pink Dolphin' is an educational game aimed at children from age 4 to 7 and it is created based on the curriculum used in a coding school for children.
It is an instructive game for kids, created by an actual mom and daughter based on the curriculum used at a children's coding school.
Let's go on an exciting coding adventure with Boto the Pink Dolphin and his underwater friends!"

■ Boto the Pink Dolphin features
1. A curriculum to improve creativity, logical thinking ability and computational thinking(CT) ability developed by a coding Institution.
2. Instructive contents based on the developmental stages of children between 4 to 7.
3. Learning guide for each stage designed for parents
4. Subtitles and narration in multiple languages (English, Japanese, Chinese) which can help reading and language abilities
5. Boto the Pink Dolphin books, boarding game are also available off-line.

■ Edutainment contents of Boto the Pink Dolphin
Children will learn how to improve their computational thinking ability while enjoying the game.
: Learn concept of sequential execution, algorithm, pattern and loop in dynamic playing.
Children will learn concept of coding as they follow the story and singing songs along with the characters.
: Learn coding concept by performing mission with Boto and Lallabot.
Children can learn unfamiliar coding concept naturally by coding songs.
: Listen to 21 coding songs

■ Educational contents in 'Boto the Pink Dolphin' (Main curriculum)
1. Sequential execution: Learn to make commands in order for execution and let's make Boto dance.
2. Algorithm: Learn to making plans for each step to arrive at Dr. Turtle's lab.
3. Boolean: Learn the statements that describe 'True' or 'False' and answer Lallabot's questions.
4. Loop: Learn to repeat commands to execute tasks more efficiently and move to the goal.
5. Data structure, Data classification: Learn to Classify the data according to the conditions and answer Lallabot's questions.
6. Pattern recognition, Repeat: Learn to understand patterns and create a program using loops and put the trumpet shells in the basket.
7. Algorithm: Learn the algorithm through playing music and make beautiful harmony.
8. Command: Learn to get the intended output from a command and express fun moves.
Boto Lalla Coding Theory 1.5 Update