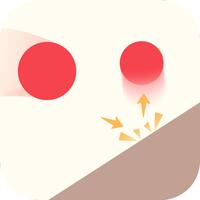 Bouncy Ball in Circle
Not Available
Removed
from the App Store
Screenshots for iPhone
More Screenshots for iPad
Bouncy Ball in Circle Description
Download and play our newest trending game: Bouncy Ball in Circle for FREE! Tap screen to make the board move and let the ball hop on the board and bounce forever. Don't let the ball touch any part of the circle or the game will end. Collect as many stars as you can and try to stay alive as long as you can. This is a very addictive tapping game that will hook you up within seconds. If you love ball games and are ready to take our challenge, let us enter the spinning wheel and jump start the game!

o-o-o-o-o-o-o-o-o-o-o-o-o-o-o-o-o-o-o
FEATURES OF BOUNCY BALL IN CIRCLE:
o-o-o-o-o-o-o-o-o-o-o-o-o-o-o-o-o-o-o

● Addictive & exciting relaxing ball game to play ●
We realize there are so many ball jump game like rolly or rolling in vortex, navigating the twisty or color road, jump onto stacks of bricks, rolling around in dune, bouncing or jumping in helix vortex, and many more! While there are so many shapes and types of ball hope game, we are certain you will love ball game that we created because it's very easy to play, not too frustratingly difficult, or fast paced. It's a perfect relaxing game for you.
● Simple Game Rule ●
Like we explained before: simply tap left to move the board to the left and tap right to move it to the right. You need to make the ball jump on the board so it will bounce. You have to be careful so it won't touch the side of the spinning wheel. Can you catch up to the bouncing ball?
● Good for Concentration ●
Play our game and practice your focus and concentration! You have to catch up the hopping ball and direct its movement. If possible, collect as many stars as possible.
● Collect Powerups ●
Aside from Stars, there are powerups you can collect to help you through the game. You can collect a powerup that let you split the ball into two (so even though one touches the circle, the other one is still alive). You can also get a powerup to enlarge your ball to increase the hitting area.
● Change the Color of your Ball ●
Bored with the color of your current ball? You can change the color of your ball easily.
● Minimalist & modern game design ●
Have you ever feel overwhelmed by the game graphic and design? Maybe you feel dizzy after being sucked into a rolling vortex, spinning things, or twisty color roads? Sometimes you feel you just want to escape instead of enjoying the game! Our game design is simple and easy on your eye. It's supposed to be an exciting but relaxing game after all! So, if you dislike being in a space full of blinking colors or in vortex that gives you motion sickness, our game is the best for you!
So, what are you waiting for? Download our miraculous & colorful Bounce Ball game now.
---
We hope that you love ball game that we make! Could you please take a moment to leave us a rating and review? Your feedback is invaluable to us and will help us creating more fun and exciting trending games for you to play!