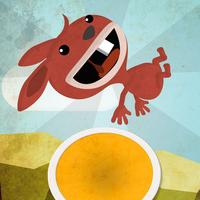 Bouncy! Trampoline
Free Get
Screenshots for iPhone
More Screenshots for iPad
Bouncy! Trampoline Description
Bouncy is a rabbit who loves to jump on his trampoline. Touch or slide to make Bouncy jump and do tricks!

"It's amazing how such simple game mechanics can be so difficult and make you go 'just one more time' over and over again. Very talented and good, worth discovering" - 4/5 SVT Games

"It's one of those perfect games to pull out whenever you have just a spare moment, but don't be surprised if you sit down for an hour or more just going after new goals and unlocking new items." - Toucharcade.com

"Bouncy! is hi-score hunting at it's best"
#1 Mobile Game of the Week + Golden Nugget of the Week, 4/5 - Aftonbladet.se

"Bouncy! is without a doubt one of my top go-to games for when I have a few spare minutes" - (4.5/5) 148apps.com

"It's an exercise in compressed entertainment, the distillation of everything fun into one single mechanic, contained within the crisp lines of Scandinavian style. It's the Ikea of rabbit trampoline games." – Kotaku.com

"Shockingly entertaining, and the audio/visual presentation on its own is worth the small price of entry. Go forth and bounce!" - Jayisgames.com

"You really can't go wrong with this purchase, it hit all the right notes with me." - Pixelbedlam.com

"It is the kind of game that attracted me to playing games on a smartphone from the start." - Touchgen.net

"A beautiful looking game with charming sounds, and I love the simple-yet-hard-to-master gameplay." - (4.5/5) Appadvice.com

"Bouncy! Is a minimalist hit, and a perfect pastime." - (4/5) Metro.se

------------------------------
Game Description
------------------------------

Bouncy is a simple trampoline game (simple is awesome!) But don't be fooled. A lot of love and care have gone into every aspect of the gaming experience. You will get hooked and you won't be dissapointed.

With Bouncy you will feel the tactile reward of intuitive gameplay, responsive controls, smooth animations and never ending challenges trying to get Bouncy to master new series of tricks and combos on the trampoline.

Take Bouncy for a spin, Bouncy will love it and you won't regret it.

------------------------------
Highlights of the game:
------------------------------

• Easy to handle - darn hard to master

• 3 different game modes: Regular, Time Challenge & Stressy Tricks.

• Two control mode options for your optimal gaming experience.

• Unlock rewarding game modes like "Superjump", "Megajump", "Timewarp" and "Perfect Death".

• Achievements unlock new trampolines with different look, feel, performance attributes and multiplyers.

• 46 levels, 138 achievements and never-ending gameplay.

• Smooth, responsive controls and rag-doll animations.

• Clean and crisp design (hey, it's Scandinavian!)

• Possibility to customize your character with different furs & items, adding bonus abilities.

• Variations of scenic colour schemes and visual feedback as you progress in the game.

• Original hi-quality soundtrack and sound design.