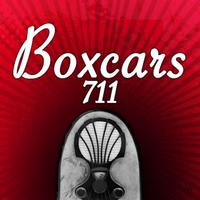 Boxcars711- Old Time Radio App
$1.99
Screenshots for iPhone
More Screenshots for iPad
Boxcars711- Old Time Radio App Description
Before TV was. Then, Now, Forever! Broadcasts from The 'Heart' Of Historic Germantown and Where The Oldies Are Still Young.

This is the most convenient way to access Boxcars711 on your iPhone, iPad or iPod Touch. You're always connected to the latest episode. Instant access, just touch and play

This App contains the following features:

* Streaming access to play episode from anywhere
* Always updated with the latest episodes- and an archived back catalog
* Download the episodes and play them when offline
* Playback resume (when interrupted by a call or other distraction)
* Favorites (mark the episodes you want to return back to over and over)
* Quick access to all the contact methods for the show

(Please note, not all features are available for all episodes.)
Boxcars711- Old Time Radio App 2.0.30 Update
The App has been re-designed from the ground up and it's OH SOOOO much better looking with much easier functionality and accessibility!
Here are some of the super star updates!
- Car mode! Rotate your phone to display larger playback controls.
- The main menu and playback settings are now accessible via a slide out from the upper left corner button.
- Improved access to episode sorting features and the episode Star and Download options.
- Improved display of episodes, artwork, and post file type.
- Show contact features can now be accessed via the main menu or the upper right corner while viewing an episode.
- Its just prettier… who doesn't want pretty?
Please provide any bug reports via the troubleshooting button found under contact via the main menu.
We hope you love the spiffy new look and features!
More