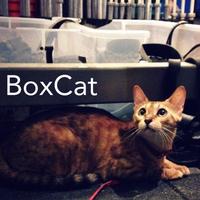 Box-Cat
$1.99
Box-Cat Description
Box-Cat

WOD, Weight lift, Cardio, Gymnastics Log for Crossfit Style workouts
Play WOD with preset timer and log. no need other WOD timer.
Simply Choose WOD press play button.
No more math to set Barbell for lifting.
Over two years experienced Crossfiter made.


FEATURES:
- Barbells Calculator for weightlifting
- Record Crossfit Style workouts less key type.
- 1RM and weight percent chart
- Over 130+ well categorized WODs with easy browsing view.
- Gymnastics and cardio movements log
- iCloud and Email backup support.


* CrossFit is a registered trademark of CrossFit, Inc.