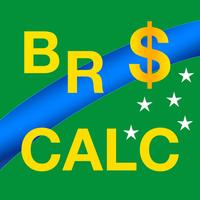 BR-Calc
$4.99
BR-Calc Description
O BR-Calc é uma calculadora especializada para facilitar cálculo de impostos sobre vendas e preço líquido no Brasil. O líquido pode ser calculado a partir do total da fatura, ou impostos e total calculado a partir do valor líquido.

Diferentes combinações de taxa de imposto podem ser personalizadas e armazenadas para fácil recuperação e uso em novos cálculos.

Se os condições financeiros forem incluídos, (dias e taxa de juros), o impacto no preço líquido e nos impostos é levado em consideração.

A calculadora suporta o modo RPN e Algébrico.

BR-Calc is a specialized calculator to facilitate calculation of Brazilian sales taxes and net price. The net can be calculated from the invoice total, or the taxes and total from the net value.

Different tax rate combinations can be customized and stored for easy retrieval and use in new calculations.

If finance terms are included, days and interest rate, the impact on net price and taxes is taken into account.

The calculator supports both RPN and Algebraic mode.
More Information
Language:

English

Portuguese

More