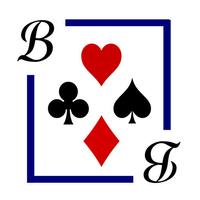 Bridge Binder
$1.99
Screenshots for iPhone
More Screenshots for iPad
Bridge Binder Description
Bridge Binder has been created by Bridge players for Bridge enthusiasts who partner with a number of players. The app provides the ability to:

- Describe and share your personal bidding style, thereby allowing your partners to view and recall how you bid prior to a session.
- Receive and store the bidding style of other players, allowing you to know or review how they bid prior to playing.
- Score and share the results of completed four player Bridge games.
- Document and share notable hands.

You may detail one or more of your own personal bidding styles. This tells others how you will bid when you are the first bidder of the partnership and when responding to partner's opening bid. You can begin by listing the common bidding conventions that you use. You can then refine this by adding detailed bidding scenarios. A sample bidding style is included to help you document your own personal bidding style.

To test your familiarity with your bidding style and the bidding style of other players, Bridge Binder automatically generates a set of flash cards from detailed bidding scenarios.

Score games using Rubber, Chicago and Duplicate scoring systems. Although the standard compass directions are used, hands are entered based on the location of each player seated around the table relative to the person doing the scoring. The app automatically generates statistics of each player's contribution to scores. You can print or email the statistics of each game to yourself or to other players.

You can record interesting and notable hands along with a discussion of how to bid and play the hand. This can be used by Bridge instructors to prepare sample hands of unusual bidding situations for classes, or for publishing hands on a regular basis.

Each screen has its own detailed information page. Our intent is to enhance the accuracy and usefulness of Bridge Binder for the continued enjoyment of all Bridge players.
Bridge Binder 1.1 Update
Bug fixes including penalty amounts for down 5 or more doubled or redoubled
More