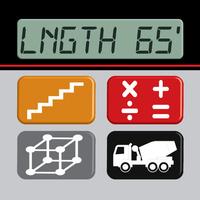 Builder Calc
Free Get
Builder Calc Description
The most innovative and feature-rich construction calculator has arrived!
Perform construction calculations for the following!: 
With all the extra features and calculations you will be able to use this app in a multitude of construction situations! BuilderCalc has been especially designed by tradesmen for tradesmen. Includes a highly practical and functional design for strong sunlight situations, just like a real construction calculator!
FEATURES
-Staircase
-Framing
-Wall, floor, ceiling
-Foundation
-Pavement and concrete
-Measurements
-Landscaping
-Equal spacing
-Running measurements
-Square up
-Masonry

-Regular calculator: Run equations (+, -, *, /, %) just as you would on a conventional calculator.
Builder Calc 1.0.2 Update
More Information
In-App Purchases:

Unlock All Calculators+No Ads! $7.99

More