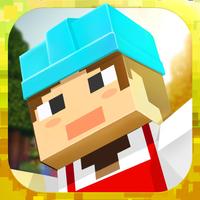 Building Block - Create Castle/City Craft Simulator
Free Get
Building Block - Create Castle/City Craft Simulator Description
BuildingBlock is a sandbox game with pixel styles & first-person.

BuildingBlock has no specific goals for the player to accomplish, allowing players a large amount of freedom in choosing how to play the game. BuildingBlock enable players to build constructions out of textured cubes in a 3D procedurally generated world.

Players have unlimited resources to build with and the ability to fly. At the start of the game, the player is placed on the surface of a procedurally generated and virtually infinite game world. The world is divided into biomes ranging from deserts to jungles to snowfields.Players can walk across the terrain consisting of plains, mountains, forests, caves, and various water bodies.

The core gameplay revolves around breaking and placing blocks. The game world is composed of rough 3D objects—mainly cubes—arranged in a fixed grid pattern and representing different materials, such as dirt, stone, various ores, water, lava, tree trunks, etc. While players can move freely across the world, objects can only be placed at fixed locations on the grid. Players can gather these material blocks and place them elsewhere, thus allowing for various constructions.
Building Block - Create Castle/City Craft Simulator 3.5 Update
More Information
Language:

Chinese

English

More