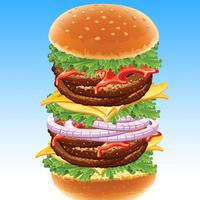 Burger Stack
Free Get
Burger Stack Description
Play Burger Stack!

You are the chef and need to cook up your orders by making burgers with the correct toppings. Correct orders will get you the most cash from hungry customers.

Tilt your phone to catch burger toppings and fill your order!

Build your burger creations into tall, delicious, masterpieces. You can keep stacking burgers up to the sky! Build hamburgers, cheeseburgers, or your own custom burger!

Burger Stack is great for kids:
Kids learn hand-eye coordination by tilting the device to move the burger. Tilt sensitivity can be adjusted for all skill-levels.

Let's get grilling with Burger Stack! Who's hungry?