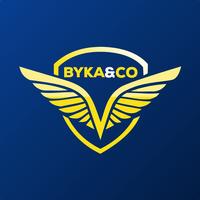 Byka&Co: Biker Social Network
Not Available
Removed
from the App Store
Byka&Co: Biker Social Network Description
Byka&Co. is on a mission to inspire people to change the world through the power of adventure. Byka&Co. brings together the world's riders & adventurers, providing a platform that's built with the best in modern technology to establish these powerful connections and relationships. Byka&Co. is a community of motorcycle riders who are passionate about adventure and want to share their adventure rides with other passionate motorcycle riders. Stay connected with fellow bikers and enable these connections to deepen your love for adventure and the open roads.

Here's how Byka&Co. works:

~~COOLEST BIKING ORIENTED ACTIVITY FEED~~

Byka&Co boasts of an uber cool biking oriented activity feed. Click and post pictures of your biking experiences and adventures. Capture all your biking shenanigans and populate your friends' social feed with your road trip experiences. Byka&Co lets you share pictures on Instagram, Twitter, Whatsapp & Facebook as well from within the app. You can tag the location & your friends in the photos and videos. You can also follow other biking & motorcycle enthusiasts who own amazing bikes such as Harley Davidson, Ducati and Hondas, see their feeds, get travel tips, new places to explore and much more on Byka&Co. It is indeed the coolest motorbike riders club.

~~ CREATE OR JOIN TRIPS WITH VERIFIED BIKERS~~

Find like-minded passionate bikers near you and connect with them via Byka&Co. Create and join groups by interests, age group, location and more. Connect with fellow adventure lovers, ask questions, answer doubts, share tips, and discuss social issues with a biking club that cares. You can get in touch with bike riders who own mean machines like Harley Davidson, Ducati & Honda. This biking club lets you plan meetups and create events as you go. Plan your next motorcycling adventure, and while you are it, also make some new friends with a sheer love for motorcycles.


~~WORLD TRIP CALENDAR~~
Find the trips posted by bikers all around the globe. Byka&Co. lets you refine your search. Search by age, place, interests and more and find your perfect motorbiking partner. Simply send a request and you are all set for the biking adventure on your favourite motorcycle.

~~MUCH MORE THAN JUST A TRAVELLING JOURNAL~~

Byka&Co is not just an app for adventure lovers but is much more than that. You can dedicate your trips for charity. Simply post a trip, find fellow verified bikers who care about the issue, travel together to raise awareness and do your bit for the society. So, use your Harley Davidsons, Ducatis and Hondas not just for adventure but also for the upliftment of society by taking part in various charity drives.




Byka&Co is the go-to app for bikers and road trippers all around the world. Connect with fellow biking lovers and meet cool & awesome bikers who share in your passion for riding, it is an amazing road trip planner. Scroll through a customized feed filled with amazing write-ups, pictures, and videos of your favourite bikers and their mean machines like Harley Davidson, Ducati & Honda. Find the best destinations for your biking adventures and give yourself a kick of adrenaline. Stay connected with other bike riders and find your travel companions. Discuss and raise awareness about social issues, join charity events and causes. Find everything you can possibly need, if you're a biking enthusiast, under one roof.


Take the open road with Byka&Co today.
Byka&Co: Biker Social Network 1.01.1 Update