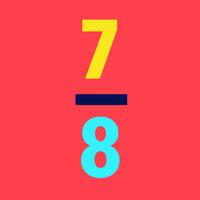 Calcoolator of fractions
Free Get
Calcoolator of fractions Description
Simple-to-use universal calculator with the fastest fraction-entry system in the world: just swipe your finger to enter a fraction in a single gesture.
Choose 'from-to' conversion pair (e.g. cm-->inch) and for every result you will see how much it is in inches.
For students, parents checking homeworks, woodworkers, carpenters, chefs, scientists, engineers and anybody who needs a powerful calculator natively handling fractions.
- to enter NUMERATOR of a fraction: swipe the number button up
- to enter DENOMINATOR of a fraction: swipe the number button down
- to DELETE numerator or denominator: swipe the DEL button up or down
- to DELETE last digit: tap the DEL button
- to DELETE all: long press the DEL button
- to SQUARE a number: long press the 'x' button
- to SQUARE ROOT a number: long press the '÷' key
- to REDUCE and SIMPLIFY fraction and CONVERT it to decimal: enter the fraction and tap '='
- to view the complete input: SCROLL THROUGH the display with your finger
- to EDIT anything you have entered: tap on the number or operator and delete or add
- to toggle result between PROPER and IMPROPER form of fraction: tap on the result- to use the previous calculation result as an input to the next calculation: don't delete and just carry on with your calculation after '='
- three basic FREE SKINS for different light conditions
- five more paid skin groups designed for kids, vintage calculator lovers or you name it...
- NO ads, of course. Don't like ads.
Missing a feature? Write us directly from the app and we'll add it! (If reasonable :-).
More Information
Language:

Czech

English

More