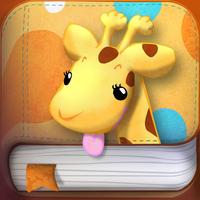 Camelia the giraffe Book!
Not Available
Removed
from the App Store
Screenshots for iPhone
More Screenshots for iPad
Camelia the giraffe Book! Description
The first doctor-proof app!!
It's a reading Revolution.
JoyTales presents the first stories for bedtime and any other time of the day!

Camelia the giraffe
The first story thought to help children not to get lost in a sea of words and to take them by the hand through the magic world of the alphabet.
Camelia is for everybody! For those who don't speak much or speak too much and for the ones who confuse words. For children who don't listen to grown-ups and for grown-ups sho don't listen to children. Most of all, it is for those who don't like to admit when they are wrong…

CHARACTERISTICS

* Original interface graphics and illustrations
* Doctor's file about the aim of the story
* Interactive animation: you choose how to shape the story with the animated panels
* Reading panels for those who want to read alone (or with someone!)
* Record and listen to the voice you prefer (it will make no difference anymore if mum or dad are not around!)
* Choose the narrator voice (English, Italian, Spanish, and German)
* Ad hoc sound design for each panel
* Bookmark option so you never lose the page
* 3 games available in many different versions (color, memory, join the dots!)
* Lots of information and interesting facts about the animal characters
* Available in English and Italian, Spanish, Portuguese, Chinese, German, French, Russian and Japanese
* Help manual for beginners

Camelia the giraffe is one of the JoyTales, a collection of 12 original stories, thought up by a team of experts - most importantly a pediatrician and a child neuropsychiatric doctor - to help children as they grow up!

Discover all the other tales in the App Store.

Joy Tales, quite another story!

Joy Tales is a product from Desdoo.
Camelia the giraffe Book! 2.1 Update
Professional voice-overs are now available in English, Spanish, German and Italian.
Textual pages available in English, Spanish, German, Italian, Portuguese, French, Japanese, Russian and Chinese.
More