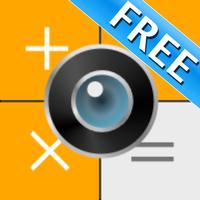 Camera calculator -Free-
Not Available
Removed
from the App Store
Camera calculator -Free- Description
"Camera calculator" is an app that recognizes and calculates values within a designated area of an image taken using the camera.
Or you can do a values recognition as well from the image you have stored in the camera roll .

Values needed when making a calculation can be acquired through the camera, eliminating the trouble of having to input digits several times. The app can be used in many convenient ways, such as by totaling all values in one part of a document, etc.

The app can be used to make calculations with only necessary values selected from among those recognized. An ordinary calculator function is also included, making it possible to perform calculations combining values acquired from the camera and values input through the calculator.

[How to use]
1. Hold the camera parallel to the drawn values as much as possible.
Or specify the image file you want to numeric recognition .

2. Designate a desired recognition area by tracing on the screen with your finger.

3. If recognition is successful, positive values are displayed in blue and negative values are displayed in red. Areas with values are surrounded with a line.

Tap a successfully recognized value to display a pop-up. Tap the +/- button in the pop-up to convert positive values into negative values, and negative values into positive values.
Additionally, tap values in the pop-up to show them in the display to be used for calculation.

Press the A+ button shown when recognition is successful to display the total of all recognized values within the area.

[Note]
Recognition may not be possible due to character size and font. Recognition of handwritten characters is also not possible.

Currently, decimal points cannot be recognized. All recognized values will be whole numbers.

The free version will display ads. Paid version there is no advertising display is also available .
Camera calculator -Free- 1.1 Update
This update is signed with Apple's latest signing certificate. No new features are included.
More