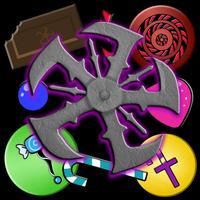 Candy Chaos Kingdom Ad Free
Not Available
Removed
from the App Store
Candy Chaos Kingdom Ad Free Description
Reversi with a Chaotic Twist - No Internet Required to Play
With unparalleled humor and an addictive quality that will occupy you for hours, welcome to the kingdom of Candy Chaos Kingdom.
The Chaos Master needs your help to restore balance to the kingdom. It is up to you, the Chosen One, to bring peace. Follow your candy's humorous journey as it battles against other candy types.
Now start with 11 Chaos Bars. Earn enough gold stars in each level with a single character to earn a free Chaos Bar.

A wonderfully addictive game with:
~Humor~ ~Puzzle~
~Strategy~ ~Adventure~
~Personality~
~And much more~

Earn Silver Coins, Gold Coins and even Chaos Bars! Also pay attention to your number of lives, which can be replenished by using one of the provided Chaos Bars or the Chaos Coins you earn in the game.

Act I: 5x5 Grids challenging your same signs
Act II: 7x7 Grids challenging your friendly signs
Act III: 9x9 Grids challenging your enemy signs
Act IV: 11x11 Grids challenging your worst enemy signs

Arena Mode is your chance to choose your own level and amount of players. Meant to be an added challenge but with humor, Arena Mode is not for the weak, so prepare!

Don't forget your power, it really can mean the difference between Victory and Defeat!

Oh and the Chaos Master is not done yet. His Chaos Square will have you guessing what will come next for hours.

Which candy is the best? Will it be:
Dark Chocolate? White Chocolate? Milk Chocolate?
Jaw Breaker? Candy Stick? Lollipop?
Jelly Bean? Taffy? Gum Drop?
Licorice? Gum? Mint?
Or Will the Chaos Master rule them all? Always remember, Chaos HappenZ!
Candy Chaos Kingdom Ad Free 1.0 Update