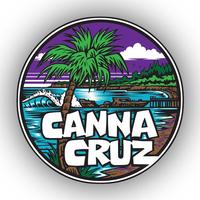 CannaCruz
Free Get
CannaCruz Description
CannaCruz Collective is Northern California's finest dispensary, featuring multiple major award winning flowers, concentrates, topicals, and more! Our entire staff has been professionally trained and educated, and will take the time needed to find the right medicine for you.

At CannaCruz we lab test every product, not exclusively for THC, but a full cannabinoid analysis as well as terpenes, pesticides, residual solvents, and molds and mildews. We do this to ensure the safety of the medicine we are putting on our shelves, as well as to get an understanding as to why a strain affects you the way it does.

We regularly have over 60 strains on our flower shelves with a variety of effects, a huge selection of edibles, concentrates, tinctures and more! We are very proud to have our flowers come from local cultivators, as Santa Cruz continues to raise the standard of quality for the rest of the state. We welcome you to join our cannabis community and gain access to the highest quality medicinal cannabis in California! Our trained professionals can always help you find what you need.

Our app allows you to learn more about our dispensary as well as browse our live product inventory, receive updates on events, and stay connected with the CannaCruz community!

CannaCruz is a dispensary that operates in strict accordance with the Santa Cruz City ordinance, CA Proposition 215, CA SB420 and all applicable California State Laws. Becoming a member of CannaCruz is extremely fast, free, and easy. Just swing on by with your original copy of a licensed doctor's recommendation and a state issued photo ID.