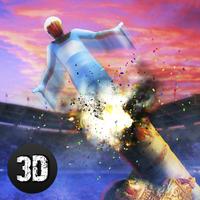 Cannon Ragdoll Shooting Fest
$3.99
Screenshots for iPhone
More Screenshots for iPad
Cannon Ragdoll Shooting Fest Description
Ever dreamed to become like a famous Baron Munchausen and shoot yourself from a massive cannon riding its core? Then this game is made exactly for you! Control your human-like ragdoll loading it to the cannon and shooting at the target! Perform different tricks and stunts right in the air and just have fun playing Cannon Fest: Ragdoll Shooting Stunt!
Choose the best angle to shoot, tune the power of the launcher, load the doll into the cannon, aim carefully and fire! Watch your ragdoll's flight, drive it in the air right through different obstacles such as circus ring and land in the right point to win! Join this unusual fever, hear the tribunes roaring and feel the power of the adrenaline right in your veins!
Check four fantastic game modes – darts mode, where your ragdoll should hit the target and gain high amount of points; rings mode, where you should fly through as much rings as possible; barrels mode, where you should hit the exploding barrel; and boxes mode, where you should move a box with the help of your ragdoll! Complete every mission of this awesome tournament and have fun playing Cannon Fest: Ragdoll Shooting Stunt!
Earn points for each successfully done mission and level up the gun powder, aim, gun barrel and gun base of your cannon to achieve really great result or improve the stats of your ragdoll! Unlock new interesting ragdolls, skins for your super cannon or even different hats for your mannequins! Become the most skillful ragdoll cannon marksman ever!
Cannon Fest: Ragdoll Shooting Stunt
• Creative cannon shooting simulator
• Various types of amusing tricks to perform
• Four interesting game modes for more fun
• Addictive gameplay with simple and intuitive controls
Load your fantastically colored cannon with a human-like ragdoll, aim your target, set the fire to the wick and shoot! Improve your shooting skills playing this unusual Cannon Fest: Ragdoll Shooting Stunt game and have fun!