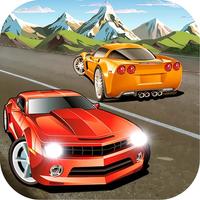 Car Dodge 2D - Real 2 Lanes Car Racing Fun Game
Not Available
Removed
from the App Store
Screenshots for iPhone
More Screenshots for iPad
Car Dodge 2D - Real 2 Lanes Car Racing Fun Game Description
Become the Best Car Dodger by scoring high in the simple Fun 2D game

Trust your driving skill….??? Trust your driving sense…??? Prove your skills and senses by staying on the tracks for long by making the highest scores and by setting up the record for others players in the game.

Car Dodge 2D is a Simple & Exciting game for the players to show their driving skills and demonstrate their senses by making the highest scores and new records.

In the game player have to control car and avoid the car accidents for as long as possible by changing the lanes or road track and avoiding the cars moving in the opposite direction. Car realistic movements on the track provide a new level experience to the players with the simple background music. On completing a single lap, score is awarded to the player and the ratio of the scores increase as the number of cars on the tracks increases. Player can collect coins in the game play to resume the game from the exact point by giving up the specific number of coins after the game over. Multiple gifts are also given to the player with many surprises like double coins, double scores value, car immunity from accident, double chance on accident and much more in the game play.

So now its time to prove your skills of car controlling and to show how much sharp senses you have by making the highest scores in the game and to make new records.

How to Play:

Car Dodge 2D fun and simple game to play with single car controls.

- Control the car and avoid crashing into the opponent car by changing the lane on time.
- Single tap on the screen to change the car lane.
- Collect coins to resume the game on accident by using the coins.
- Complete the laps to make the scores.
- Collect gift packs with multiple rewards awarded for the single game play.

Game Features:

- Beautiful Game Graphics
- Multiple Gameplay Environments
- Simple & Easy Gameplay with Gradually Increasing Difficulty
- Multiple Color Player Cars for selection
- Collect Coins to Play for Longer
- Collect Gift Packs with multiple Rewards
- Attractive Game Play Sounds
- Realistic Car Movements
- Game Leaderboard
- And Much More….

Like the game share it with others. Let us know your precious thoughts about the game, give us the feedback to improve more.