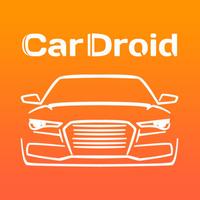 CarDroid
Not Available
Removed
from the App Store
Screenshots for iPhone
More Screenshots for iPad
CarDroid Description
Make your car smart with CarDroid.

UonMap CarDroid app provides safety services for CarDroid users.
If you have CarDroid, you can use this app to monitor your vehicle remotely using your smartphone. It's a very easy way to check the car's systems, check its location and get all information about a car's condition. It combines all functions of CarDroid in one app.

CarDroid is a connected car device. You can use it in every car which has an OBD-II port.
You will discover plenty of useful possibilities with CarDroid.
CarDroid key functions are:
- Remote car diagnostics: you can easily check & clear error codes, and determine what's wrong with your car;
- Multifunctional car solution: you can remotely monitor a vehicle's location and see its sensors data. You can see where a car is at the moment, check its speed, rpm, fuel level, etc.;
- ESNaR - Emergency Situation Notification and Reconstruction: it is our unique technology which combines two extremely important functions: car accident notification and car accident 3D reconstruction.
- In-door location (Wi-Fi Positioning): In case there's no GPS signal in the area, CarDroid uses Wi-Fi to define the location of a car.
- Alarm system: If a car is hit while parked or if it is being towed away, you will immediately get a notification.
- Driver behavior monitoring: CarDroid analyzes the driving style and detects any hard acceleration, hard braking or sharp turns.
- Wi-Fi Hotspot: CarDroid can share its Internet access with other external devices via Wi-Fi.

There are 2 ways of using the app:
1. All vehicle data can be sent to your UonMap app account via the Internet;
2. You can see all available data in the app without having an account.

Just plug the device into OBD-II port of your car, and you will instantly get access to all vehicle's data and even more.
UonMap CarDroid app offers you the same functions as the web account version on uonmap.com.
With this app you can:
1. Add a CarDroid to your account;
2. Check vehicle's location;
3. Read and clear error codes with OBD-II;
4. Create and control a Wi-Fi hotspot in your car;
5. Check vehicle sensors data;
6. See and manage notifications;

The app is very easy to use and has a comprehensible interface.

CarDroid was made to make your regular car connected using the innovative solutions.
CarDroid 2.1.8 Update
bug-fixes and stability improvements
More