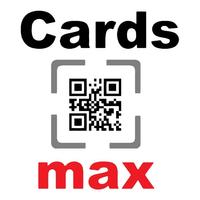 CardsMax
Not Available
Removed
from the App Store
Screenshots for iPhone
More Screenshots for iPad
CardsMax Description
What Is CardsMax?
As the name suggests, it is an electronic format of paper or plastic cards like Punch-Cards and Scratch_Cards.
It is a combination of 2 mobile apps:
CardsMax Business:
Merchants can use to create and manage promotions
CardsMax:
Users will use to keep their electronic cards and redeem their prizes
What Can you do with CardsMax?
Punch Cards Promotions
Buy 7 coffee and get 1 for free
Buy 3 books and get a pen for free
Raffle – Scratch Cards
You can define a card with a single check (One scan to get the prize)
Define several prizes that the user can win (some of them can be "Good Luck Next Time".
The user will get a random prize
Welcome or ad-hock gifts
When the user visits your shop/restaurant you can offer him a welcome gift by asking him to scan a QR Code. This can be a Raffle/Scratch-Card or even a mark in a punch card.
This is also applicable if you know that it is his/her birth date or you want to make his kids feel happy by winning a nice gift by scanning the number.
Be creative and find new ways to make your customer happy and loyal
What is special about CardsMax?
It is a multi-user system
You can distribute responsibilities among your employees
The Marketing Manager can create the promotions
Cashiers can offer the Cards to the customers
Store Manager can issue the gifts to the customer

Or in a small business all employees can do all the tasks.