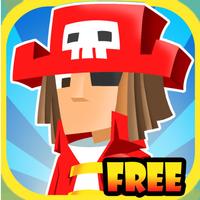 Caribbean Pirates Treasure Plunder Hunt : Free
Not Available
Removed
from the App Store
Caribbean Pirates Treasure Plunder Hunt : Free Description
"Best pirate game ever!" Jimmy johnes
New on IOS "Caribbean Pirates Treasure Plunder Hunt "


Caribbean island with pirates will definitely have treasure in it. The most awaited hunt of all pirate are now on the rise when some of the pirate will get in your way to steal those map or get even ahead of your course to find the treasure. You must stand their way and fight till every pirate on the caribbean island is under your command.

Caribbean Pirates Treasure Hunt is a fast paced endless shooting running game where you have to destroy all incoming enemies and avoid getting killed. Don't miss out those power ups that come in limited time where you can triple your speed and collect more coins to change your captain pirate.

This all-new awesome game features some really cool stuff:
*Great game play, sounds and graphics?
*Awesome fast paced action?
*Special IAP Novice Mode - Use this IAP to play with out dying!

Download and play with the Caribbean Pirates Treasure Hunt today and become part of our community. If you love pirates game join others in the Caribbean Pirates Treasure Hunt make sure you visit our Facebook page!