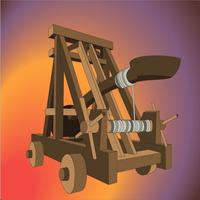 Castle Conquerer
Free Get
Castle Conquerer Description
Another Castle Conqueror game? Yes, and is your battle this time, the battle over the medieval castle has just begun, are you up for the challenge? You want to build a glorious kingdom but your army is stock in front a castle, both army decided to go on fight so you need a strategy for winning the battle. If you have a good strategy, you can win this battle and the all war just calculate the wind speed as well the height of the wall. This game is a strategy game as well an action game, when play it you need a lot of skills for being a winner. Fight well and win the battle for your people, the battle's just begun be the best in this faith.
This game is a Strategy/ Tower Defense game awesome aiming and shooting game with multilayer option. Castles Conqueror is an easy and fun real-time game. Firing-up the trebuchet, hammering on the enemy, fighting over the castle!
Castle Conqueror Features:
• Medieval fun
• Cool Trebuchets
• Fun graphics and effects
• Awesome set and fire action
• Spot-on Castle dropping physics
• Expertly developed and brilliantly created gaming

Have fun as you battle for the medieval castle and take out the enemy with your trebuchet!
Castle Conquerer 2.1 Update