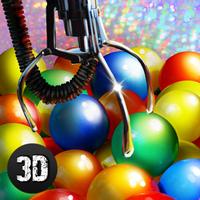 Catch Surprise Toy: Claw Machine Sim
$3.99
Screenshots for iPhone
More Screenshots for iPad
Catch Surprise Toy: Claw Machine Sim Description
Ever dreamed to catch this special price from the toy machine? Now you have a chance to do this even easily than you ever expected! Just check our Catch Surprise Toy: Claw Machine Sim game, insert the token into the special orifice, accurately move a claw and hook on your fantastic surprise toy!
Enjoy the chance to have colorful toys right in your pocket even without leaving your room! Download our app, tap the screen and check not only your luck, but also your aiming skills! Do your best to catch the random blue, green, purple or orange surprise ball with enigmatic content, open it and win your super price! Would it be a regular animal toy or a legendary monster one? Who knows!
Sell your surprises to exchange every coin to special tokens which will give you the opportunity to roll more interesting and even legendary fantastic toys and gifts! Gather your own wonderful collection of interesting things, watch them into your special album and have fun playing Catch Surprise Toy: Claw Machine Sim game!
If you have duplicate toys, which are already situated at your album, you can sell it without regrets and roll the next price! Collect them all! Let your fantasy come true! Improve your aiming and hooking skills and have fun!
Catch Surprise Toy: Claw Machine Sim features:
• Ultimate toys hook machine simulator
• Colorful balls with different surprises
• Gather the best toys collection ever!
• Sell the duplicates to gain more tokens
You're lucky, aren't you? Prove it trying our new Catch Surprise Toy: Claw Machine Sim game, gather the collection of colorful toys and you won't be disappointed!
Catch Surprise Toy: Claw Machine Sim 1.0 Update