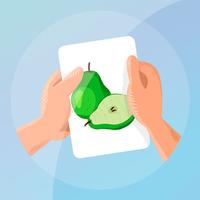 CatchUp Kids - Phonics therapy
Not Available
Removed
from the App Store
Screenshots for iPhone
More Screenshots for iPad
CatchUp Kids - Phonics therapy Description
*Doctors' choice!* Educate your baby to speak 203 words in 12 languages! Sensory-friendly to avoid overload and boost 79% reading ability! Top 5 kids freeware ranked in China(Macao) App Store, and featured by leading professional community - Autism Parenting Magazine. A study(3) suggested 79% autism kids had increased reading ability via suitable coloured material, and each flashcard of CatchUp is scientifically tested the colour proportion. This is the first and only sensory-friendly literacy learning flashcards designed for infants and autism/developmental delay children on their colour preferences.

**User-friendly, unique and appealing spinning word card game**
It presents 204 adorable illustrations, 18 different categories, speaks in 12 various languages, and makes u feel like reading a fairy tale storybook! It's never been more fun to learn new words and fire up kids' imagination.

**A delightful spinning word card game**
With 204 delicate word cards can be span whatever you want, kids would wonder and curious what is coming next! Combining with the beautiful and exquisite illustrations made by a famous Russian illustrator Lena.K. Every detail of the application are finely processed.

**Create your own collections!**
Understanding the specific needs of parents, speech therapists and teachers of special schools, the customized card function allows you to employ different pedagogic strategies suited to different groups of children.

**The one and only "low sensitive mode" made for special children**
Autism and developmental delay children are more sensitive to visual perception compared with other children, which require a more personalized educational application.
Catchup! is specially designed by a team of doctors who conducted a lot of the research and dedicated to making an app suitable for all groups of children. All cards are made in low-luminance colour preference to avoid the sensory overload and weariness to learn. Kids are invited to explore the new words and expand their vocabulary!

**Bilingual mode fulfils all your wishes in one app**
Don't have to bother to get other language learning books or apps! Bilingual mode aims at children with outstanding language talents or mixed cultural backgrounds. A word can be pronounced in 2 different languages with just one touch of the screen and up to 12 languages to choose from. It also contains anaesthetic sound effects and pictures make you giggle, which is a perfect choice for pre-schoolers.

**Free version contains one category of cards, the full version includes:
1. Complete access to 204 beautiful and exquisite illustrations from 18 different categories of daily items.
2. 12 types of different languages including English, Traditional Chinese (Hong Kong and Macao), Traditional Chinese (Taiwan), Simplified Chinese, Japanese, French, German, Italian, Portuguese, Korean, Russian and Spanish.
3. Features native speakers' voice-over from all over the world.
4. Specially designed "Bilingual mode" for talented children.
5. Specially designed "Low sensitive mode" for children with Autism/ Developmental Delay.
6. A user-friendly customised card function.

FAQ:
1. The mode that I bought is not working after purchase/re-install.
Ans: Go to [Setting] -> Press [Restore in-app purchase], then everything will be fine.

Contact us:
Email: catchupkidsapp@gmail.com
Facebook: https://www.facebook.com/Autismapp/
Website: https://cantonkids.wordpress.com

References:
1. Masataka N. Implications of the idea of neurodiversity for understanding the origins of developmental disorders. Physics of life reviews. 2017;20:85-108.
2. Grandgeorge M, Masataka N. Atypical Color Preference in Children with Autism Spectrum Disorder. Frontiers in psychology. 2016;7:1976.
3. Ludlow AK, Wilkins AJ, Heaton P. The effect of coloured overlays on reading ability in children with autism. J Autism Dev Disord. 2006 May;36(4):507-16.
More Information
Language:

Chinese

Dutch

English

French

German

Italian

Japanese

Korean

Portuguese

Russian

Spanish

More