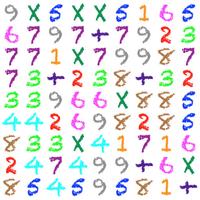 Chalk Numbers
Free Get
Chalk Numbers Description
Chalk Numbers is a match 3 game with 10 stages and 10 to 12 levels in each stage.

Each level has a goal (a quantity of points) that must be reached in a fixed number of moves. If you reach the goal, you pass to the next level. If you complete all levels, you pass to the next stage.

At stage 0 all the numbers are black, but from stage 1 to 9, numbers change color according to the stage you are playing.

The game consists of a 9 rows, 9 columns board, with a digit (1 to 9) or operator (+, x) in each position. You must swap the numbers or operators from one position to another to form a 3 or more line (horizontal or vertical) of the same symbol.