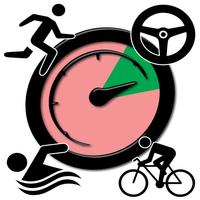 Check My Speed
$2.99
Check My Speed Description
Have the Power to Control your Speed!

Ever wanted to ensure that you are running, walking, biking, driving, or even flying at a certain speed? A speed which you set, one that is not too slow and not too fast?

Check My Speed is a convenient app that will require you to stay within your preconfigured range of speed, even while running in the background!
Simply set minimum and maximum speed limits, and the app will do the rest! Every time you are not in your range, your iPhone will sound an alarm that will command you to either "Speed Up," "Slow Down," or play one of your custom sounds from your iPod library. When the alarm is playing, the iPod will temporarily be paused, and it will continue after you have returned to your desired speed range.

FEATURES:
- a giant display with your current speed in either mph, km/h, mins/mile, or mins/km
- ability to run in the background and keep notifications even while you use a different app
- a GPS strength indicator to display the accuracy of your speed
- a sophisticated alarm system that commands you to "Speed Up" or "Slow Down"
- an option for custom sounds instead of the default ones
- a settings pane with the ability to set upper and lower speed boundaries
- no advertisements

FUTURE FEATURES:
- Supervisor Mode ~ a supervisor can be designated by a personal email address. When enabled, the supervisor gets an email each time the user's speed is not in between the speed boundaries. This feature can be utilized by parents who want to monitor their driving adolescents, and even trainers who want to keep an eye on their athletes.

This application is a "must-have" for joggers, cyclists, drivers, or essentially anyone who is in any type of motion!

THIS APP IS ONLY COMPATIBLE WITH iPHONES and SOME iPADS WITH GPS

Note: Continued use of GPS running in the background can dramatically decrease battery life.
Check My Speed 3.0 Update
- Apple Watch support! Now you can track your speed and get alerts right on your wrist.
- iPhone X support
- New and more attractive icon
More
More Information
Language:

English

Hebrew

Spanish

More