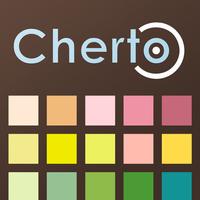 Cherto Urine Test
Free Get
Cherto Urine Test Description
Cherto is a revolutionary urinalysis system, which combines the accuracy of medical lab tests with the latest in mobile technology.

The test results will provide information about your general health status and the posisble indication of urinary tract infections, diabetes, kidney and liver diseases.

Cherto uses conventional urine analysis strips with 10 parameters and the results are read by the Cherto app. The test identifies the presence of leukocytes, urobilinogen, bilirubin, blood, nitrates, pH, specific gravity, proteins, glucose, and ketones. The results are displayed in a customer friendly manner.

Please buy your Cherto test strips from www.unicoms.com or from a pharmacy near you. (available only in a few select countries)

Disclaimer: Cherto is not for self-diagnosis or self-treatment. Consult your physician to interpret the results.
Warning: Light conditions may influence the accuracy of the test.
Cherto Urine Test 1.0 Update