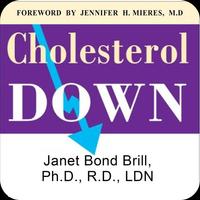 Cholesterol Down: Reduce LDL
Not Available
Removed
from the App Store
Screenshots for iPhone
More Screenshots for iPad
Cholesterol Down: Reduce LDL Description
This cholesterol monitor app offers a prefect heart disease prevention regime. It helps you reduce cholesterol without stains. This fastest way to lower cholesterol is based on Dr. Janet Brill's best-selling book, Cholesterol Down.

Take control of your cholesterol in 10 simple steps by following the cholesterol reduce diet chart offered, and adhere to the lifestyle advices to decrease your LDL cholesterol level. Generally, health professionals recommend medicines containing statins that have many side-effects like drowsiness and headache. Thankfully, resorting to the advice of Dr. Janet, you can reduce cholesterol without statins. 

The app presents an LDL tracker. As you enter your LDL value, the app informs you of the risk and suggests the desired steps. The tracker has got three more options: My LDL History, Share and Add LDL Record. In the History section, you can view your progress; the Share section allows you to share the app information on social channels like Facebook, Twitter, etc. with family and friends and/or email it to your health consultant. With the third option, you can add a new LDL record based on your latest diagnostic report.

If you are already taking the cholesterol control drug or are following a low cholesterol food chart recommended by your healthcare professional, you can rely on this preventive care measure for a faster recovery and reduce the risk of dangerous side effects associated with higher statin doses.

EFFECTIVENESS AND BENEFITS AT A GLANCE
This straightforward and easy-to-follow cholesterol diet plan can lower your LDL (bad) cholesterol by as much as 47% in just 4 weeks. 

Decreasing your LDL cholesterol or heart disease prevention has never been more convenient — or fun! The lower cholesterol diet menu has been meticulously planned keeping your health and mood in mind. It doesn't recommend any drastic change in your lifestyle. 

FEATURES
• Daily Tracker — check off each step as you go
• How-to details for each of the 10 steps, with practical tips and safety precautions
• Custom LDL goal-setting based on National Cholesterol Education Program guidelines
• LDL Tracker — record your new LDL level every 4 weeks
• Weekly and Monthly Progress Summaries for each step — so you'll know where you're 
doing well and where you need more effort
• Notes page — for recording details about your Cholesterol Down experience
• Order Cholesterol Down book to create delicious, enjoyable, and heart-healthy food and 
fitness plans

WHY IT'S IMPORTANT TO GO FOR A BAD CHOLESTEROL REDUCTION DIET
Rise of the cholesterol level beyond a certain threshold can lead to several risk factors including heart disease, stroke, and peripheral artery disease. The common phenomenon is plaque buildup within arteries, which disrupts the normal flow of blood to cells and organs of the body. 

Hence, it's important for you to take care of the cholesterol level and maintain a good health. In addition to taking prescribed medicines you must give way to cholesterol lowering foods in your diet. The sooner you pay attention at your heart's health the lesser becomes the probability of falling prey to the deadly diseases. 

With this how to lower cholesterol without statin action plan available in your phone, you don't need to worry at all. However, it's important that you say NO to bad cholesterol foods.
Cholesterol Down: Reduce LDL 2.4 Update
UI Enhancement and Minor Bug Fixed
More