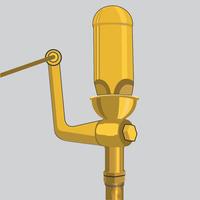 ChooChooW
$0.99
ChooChooW Description
I wrote a simple app for my grandchildren, that love Thomas the Tank Engine. It has three animated buttons with real sound tracks of a bell from a steam locomotive, steam whistle and a diesel engine air horn. There are some new animations that zoom across and surprise them. I will add more as I get time. The phone also vibrates with the sounds. That can be turned off in the settings window. Go to the settings menu for the app in the setting app. Some might argue that this should be a free app but anything that can distract my 5 and under grandchildren for a few minutes at the checkout is worth $.99. It also comes with a watch app enabled. This is primarily designed for the iPhone so any weirdness with the iPad I will resolve when I get time.
ChooChooW 1.1 Update
I added some new animations that zoom across the screen. My 4 and under grandkids love it. I also made sure that the settings were there. They are. If you don't have the sound on, the little switch on the side, the sound won't work on the newer phones.
More