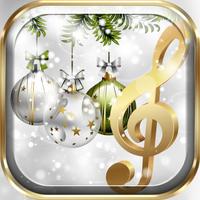 Christmas Ringtone.s and Sound.s – Best Free Music
Free Get
Christmas Ringtone.s and Sound.s – Best Free Music Description
Are you ready for the Christmas countdown? Are you looking for the best Christmas apps to get you in the holiday mood? Our team has made an amazing Christmas song list with the best traditional Christmas songs as well as modern Christmas songs so you can enjoy as much as possible! Download Christmas Ringtones and Sounds and you will get top Christmas songs that you can immediately use! This means that you will get the best Christmas songs and free Christmas ringtones with only one click! And what is best, you can play Christmas music all year long because these fun Christmas songs will put a smile on your face every time you hear them! Therefore, download Christmas Ringtones and Sounds and listen to these popular Christmas songs as much as you want!

********************************
▶ High quality sound effects and popular Christmas ringtones for your mobile phone!
▶ Many popular categories with tons of cool new ringtones – find your favorites or try all of them!
▶ Colorful graphics, easy to use interface makes this free app stand out from the crowd of other apps with free ringtones for iPhone!
▶ Option to set the sound as your incoming call notification, SMS alert, voicemail, incoming e-mail, tweet, calendar alert, etc.
▶ Carefully selected ringtones and sounds for your mobile phone!
********************************

*** The best collection of free sounds and sound effects for your iPhone and iPad! ***
You will adore this collection of merry Christmas songs because you will not only get classical Christmas songs and Christmas songs for kids but you will also get amazing funny Christmas songs with only one click! Use this phenomenal opportunity to install Christmas Ringtones and Sounds and you will get one of the best apps in the category of Christmas songs download! Choose your favorite merry Christmas song among these amazing Christmas carols and holiday songs and set it as your main ringtone! In that way, you will feel the spirit of Christmas every time your phone rings or every time you have a new notification!

*** Amazing notification sounds and most popular ringtones for mobile phones and other devices! ***
You are in the right place because you have just discovered the app that has the best free Christmas music and instrumental Christmas music! Get ready for these xmas songs because you will love every one of them! You are only one click away from the best and the most cheerful Christmas ever, so download Christmas Ringtones and Sounds and enjoy!
Christmas Ringtone.s and Sound.s – Best Free Music 1.0 Update