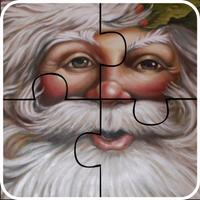 Christmas Santa Jigsaw Puzzle- Fun learning Games
Free Get
Christmas Santa Jigsaw Puzzle- Fun learning Games Description
Happy New Year Celebrate Christmas 2016 With the top game of the year with the latest fun leaning game for kids with santa jigsaw puzzle.Are you ready for the breath of holiday spirit, cheer and merriment! Christmas Jigsaw Puzzles for kids

Christmas is synonymous with happiness, one of the favorite characters of Christmas is Santa Claus (papa noel). Santa claus (papa noel) is a magic person that all children love because he brings gifts on December 25th.


Enjoy this Santa xmas with the full of joy and let the kids learn by fun by playing the puzzle game.Zigsaw are always a super fun concept for learning game for the Santa kids and here we come with the game his holidays.Our festive holiday edition of "Christmas Puzzles" for kids and adults will truly stun you with beautiful HD graphics and fun interface – all you need to do is to pick the most wonderful winter wonderland background or one of "Christmas pictures" and unscramble all the pieces as quick as possible. Whether you are looking for "puzzles games" to kill time or practice mad puzzle skills, our Xmas puzzles for kids can provide hours of entertainment, as well as gift you new free christmas wallpapers, after you finish the game!


Sit under the Christmas tree and gaze at the lovely decorations as you uncsramble our "jigsaw puzzles free games" for adults.there are many stages or levels for Santa jigsaw having a lot of puzzle and learning time for the preschool toddler kids.Merry Christmas 2016.Christmas Jigsaw puzzles game about Christmas! The most realistic jigsaw experience you can get on a smart phone.It is a fun jigsaw puzzle game applicable for all ages.Are you ready for the breath of holiday spirit, cheer and merriment! Christmas Jigsaw Puzzles for kids are ideal for the practicing concentration, reflexes and having some "Merry Christmas" cheer

During the year all the children are thinking about asking for presents to santa claus for Christmas day. At this time we all christmas carols.
Christmas Carols are beautiful songs to give Christmas carols atmosphere and we can sing in family ¡Christmas carols!

Stunning collection of Xmas"Jigsaw puzzles" for kids inspired by the happy holidays!

FEATURES ***
* 20 very challenge puzzle games.
* Five game modes suit for all age.

Christmas puzzle games for kids is an excellent brain exercise for kids and adults:
-Develop visual perception.
-Improve your observation and cognitive skills.
- Great for kids and toddlers for improving concentration!'
- Exiting jingle sound and snowy environment
- kids and adult friendly, for all ages

Have fun unscrambling the best puzzles for toddlers and celebrate the New Year 2017 in the most unique way! Unscramble your way through the holiday edition of our Xmas games and save all the beautiful pictures as free wallpapers and backgrounds! Ho, ho, ho...Merry Xmas!

The "Christmas countdown" 2017 is ushering the period of the happy holidays!
Our jigsaw puzzles free are ideal for the whole family – in no time, you would all be gathered around your smartphone or tablet trying to solve all the Christmas puzzles. In addition, you even get the opportunity to save the picture after you finish the game. Your kids will love all the Christmas backgrounds and Santa Claus pictures.
Christmas Santa Jigsaw Puzzle- Fun learning Games 1.0.0 Update