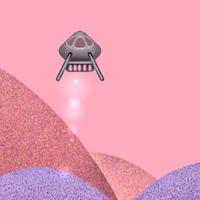 Chroma Land
Free Get
Chroma Land Description
Welcome to Chroma Land, an exciting game of precision spaceship flying. To win, fly your spaceship to the next platform. But, you'll first have to search each Chroma Land level for the correct color beam before making a winning landing.

Rules:
• In each level, you'll need to find the landing platform and land on it...
• Each level's landing platform has a color added to it. Before landing on it, you have to find and touch the color beam that matches the landing platform color.
• Each level has multiple color beams which can help you get where you're going, make things more difficult or do both!

Chroma Land:
• 20 unique levels of colorfully-crafted 2D environments (more to come).
• Challenging arcade-style gameplay with original soundtracks.
Chroma Land 1.0.2 Update
• Minor bug fixes and performance improvements.
More