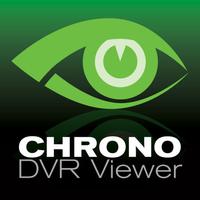 Chrono DVR Viewer (v2)
Not Available
Removed
from the App Store
Chrono DVR Viewer (v2) Description
VITEK Chrono Series DVR Viewer.

VIEW A LIVE DEMO:

LOGIN INFO:
IP Address: 12.232.164.149
ID (User Name): DEMO
Password: 1234
Port Number: 10101



INITIAL SETUP:
1) Open the CHRONO app.
2) Press the menu button
3) Press Add
- Name: This is the name of your site and can be whatever you choose.
- Address: This is the IP address or ddns assigned to the DVR.
- Port: This is the connection port default is 10101.
- Auto Login: check this box to avoid user name and password prompt.
- Username: This field is case sensitive pleas make sure it matches your dvr's username completely
- Password: This is the password field.
4) Press Save

You should now be able to see the DVR in your list.


BASIC OPERATION:
Choose the live, playback, or setup tab depending on what type of operation you want to perform. Then press on the DVR entry you just created.

LIVE:
If you chose live you will get 3 more tabs the first is camera, when chosen it lists cameras depending on how many channels your DVR has. (ex. CAM1) If there is a video feed on a channel it will show up in black if there is no feed it will show up in red. You can choose the camera you would like to view and go back to the camera list at any time by pressing the back button on your iPhone. When viewing a camera you can press along the top to bring an interface bar down allowing you to scroll through your cameras and see them in a quad view. The next tab over is the event tab it shows events that have happened after you logged in. The last tab is the Alarm tab. On this tab you can turn on and off alarms

PLAYBACK:
In this tab you can see event entries for your DVR you can press the menu button on your iPhone to re fresh the view at any time. By pressing one of the event entries you can view recorded footage of that event form the triggering camera.

SETUP MENU:
You can access the same setup menu on the DVR through your iPhone click the setup tab and choose your DVR from the DVR list. After it connects you can make system changes as if you were at the DVR its self.
Chrono DVR Viewer (v2) 2.1.1 Update
Multi camera Viewing, Audio support, improved stability.
More