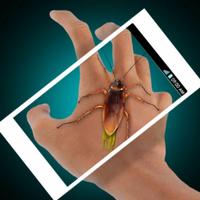 Cockroach Hand Funny Simulator
Free Get
Cockroach Hand Funny Simulator Description
This app is intended for entertainment purposes only and does not provide true Cockroach.
Cockroach Hand Funny Simulator is a prank app where you can make fun of your friends or relatives if they have a hand creeping camera. Place your other hand to connect the camera to automatically take pictures silently and put his hands on his hand, and after some time will be creepy cockroach. Attention! Maybe dropping the phone in fright, be careful! Practice before you start drawing!
ATTENTION ! This game is designed for fun and jokes and does not bear any harm!
Thank you for playing with us, leave us your ratings and reviews, and we will make our game better and more interesting for you and your friends!
Cockroach Hand Funny Simulator 1.5 Update