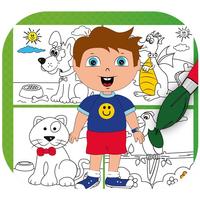 ColorDrawApp
$0.99
ColorDrawApp Description
DEAR FRIENDS! Meet Ivy, the time adventurer, and his pets. Have fun giving them color. This coloring application will help you develop creativity in early or formative ages and free expression through art.
Press the start button and start coloring. Touch the screen and choose the paintbrush, color or paint bucket and have fun.
Enlarge the images to give color to those small details.
Take a photo and keep track of your work, and while having fun, you can listen to background music or hide the audio.