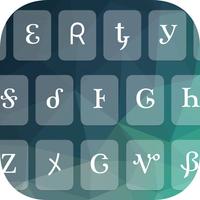 Cool Fonts Keyboard Pro- Custom Themes and Skins
Free Get
Cool Fonts Keyboard Pro- Custom Themes and Skins Description
WANT COOL FONTS?! THIS IS THE BEST WAY TO GET MORE FONTS! Show everyone how you REALLY Feel in style!

Want more cool fonts that work EVERYWHERE?? Get all the new fonts and backgrounds you've always wanted now!

Tons of backgrounds and fonts, and now with over 90+ Fonts PLUS over 90+ Backgrounds, with new ones in each update!

Customize your device with tons of awesome and unique fonts that work in EVERY app. Works in Email, iMessage, Line, WhatsApp, Snapchat, WeChat, Kik, QQ, Instagram, Youtube, and any font keyboard you can type in!

• ċȗṡṭọṃıẓє ƴǫųŗ proғιlə αηδ вισ ση S҉O҉C҉I҉A҉L҉ ΠΣTШΩRҜS!!
• Ŀєåṿє åẇєṡọṃє åṅd ṃʏṡṭєŗıọȗṡ C҉O҉M҉M҉E҉N҉T҉S҉!!
• ωяιтє яєαℓℓυ ¢υтє cσmmєntѕ ωιтн ρяєтту fσитѕ!!

WORKS IN EVERY APP!

MAKE YOUR INSTAGRAM COMMENTS & SNAPCHAT AND INSTAGRAM STORIES MORE EXPRESSIVE! HOW YOU YOU REALLY FEEL IN FACEBOOK STATUS MESSAGES AND GET MORE RETWEETS...

Get ready to surprise you're friends with a text written with awesome cool fonts!

Make you're texting more interesting!

Leave us a comment if you have an idea for new backgrounds or fonts!! We love you're ideas!!
Cool Fonts Keyboard Pro- Custom Themes and Skins 2.2 Update
+ Totally Redesigned, with new look and more fonts than ever!x
+ Fixed Bugs to Keep App PRO Always!
More