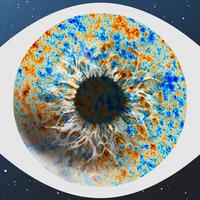 Cosmosis1: In the Light
$2.99
Cosmosis1: In the Light Description
Experience science and the world it reveals in an entirely new way! Cosmosis1 turns your iPhone's camera into a tunable light-viewer. Special filters and video vignettes allow you see live augmented-reality simulations of the world through X-ray, ultraviolet, visible, and infrared light. Then, when you reach the microwave wavelength, the Cosmic Background Radiation appears in the sky - as it would really look!. In a final exploration, a secret message (about YOU) that's encoded within microwave radiation pattern is revealed.

With the latest real science and a little imagination, cosmic surfer, Rich Blundell guides you on a journey across the electromagnetic spectrum and back to the primordial moments of the universe. Then, after completing an initial discovery phase, with Rich as your on-board video guide, you will be able to explore on your own.

Cosmosis1 is a new kind of App experience. "Cosmosis" refers to the epiphany that happens when a little piece of cosmic knowledge crosses the membrane between the self and other. The dictionary defines an epiphany as:

e·piph·a·ny [ih-pif-uh-nee] noun,
(1) : a usually sudden manifestation or perception of the essential nature or meaning of something (2) : an intuitive grasp of reality through something (as an event) usually simple and striking (3) : an illuminating discovery, realization, or disclosure.

So Cosmosis1 is designed to deliver a new way to experience the world. As an "Epiphany App" it is more than an augmented-reality game or personal utility app because it reconnects the user to the inherent wonder of an unfolding cosmic narrative. While so much of technology is disconnecting us from the natural world and each other, Cosmosis1 seeks to reconnect us via our shared cosmic origins.

The content is based on real science and delivered through established constructivist learning principles. So Cosmosis1 is designed to supplement any high school or college-level science, Big History, physics, or astronomy course (educational discounts are available). But the Cosmosis1 experience is so cool that any curious and self-motivated learner will enjoy the epiphany!
Cosmosis1: In the Light 1.0.1 Update
More Information
Language:

Chinese

Czech

Danish

Dutch

English

Finnish

French

German

Greek

Hebrew

Indonesian

Italian

Japanese

Korean

Malay

Norwegian Bokmål

Polish

Portuguese

Russian

Spanish

Swedish

Thai

Turkish

Vietnamese

More