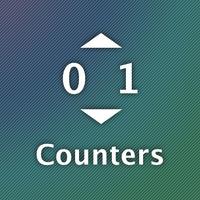 Counters
Not Available
Removed
from the App Store
Counters Description
Counters is a multipurpose counting app, useful for many things such as keeping score while playing board or card games. Use it to create multiple, skin-able "counters" which can keep track of several tallies, or "counts". It features a very simple, yet sleek, easy-to-use interface.

More skins will be added (hopefully some user-submitted skins).

If you have a jailbroken device, some creativity, and a mind for the technical, you can create your own skins for the app! Documentation is included in the app bundle's "Skins" folder. If you create your own, send it to us via email! We'd like to see it and possibly include it in a future update.

Of course, you should also send us an email if there are any bugs, or if you have any suggestions.