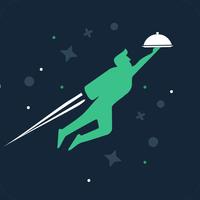 Covet- Fast Local Delivery
Free Get
Screenshots for iPhone
More Screenshots for iPad
Covet- Fast Local Delivery Description
Covet Delivery delivers your essentials and cravings in under 20 MINUTES. NO DELIVERY FEES. Whats the catch? We want you to enjoy using our service and order more using our app! Get candy, chips, drinks, tissues, water bottles, vitamins, deodorants, makeup, you name it!

Simple Ordering-Select the items you'd like with no delivery minimums. Don't see anything you want? Send us an email at heart2heart@covet.work or text us at 516-399-0036 to suggest anything you want added to the store menu!

Hours of Operation and Areas Serviced- We are open from 3:30 P.M- 2:30 A.M. We currently only service select areas in Queens, NY

Payments- In app payment and tipping via credit card.

In-App Tracking-Track your order from store to your door.

Minimums- 1 am and you want a kit- kat and Arizona iced tea? Don't fall asleep we'll be at your door shortly. We never have delivery minimums or "small cart" fees.

Customer Support- 24/7 US Live support. Simply, we do the right thing if something goes wrong with a delivery.

Order In Advance- Schedule deliveries, days, weeks, months in advance. Stock up on your halloween candy in July. We don't judge if you need another re-order in October ;)

Express Re-ordering- Easily re-order or adjust an old order on your app dashboard.

Improvements- We're constantly making improvements to our app and service to enhance your delivery experience. We're adding more items to the store menu everyday and more delivery personnel to service more areas. We always want to hear what you have to say. Drop us a note anytime at founders@covet.work to give feedback, suggestions or anything you'd like to talk to us about. First time ordering? Use promo code founder to get $7 off your order!


Our Priorities:

Delivery Speed- Delivering in under 20 MINUTES

Plenty of choices-All your essentials and cravings that you can desire. We even accept recommendations on what you'd like added to the store menu by emailing us at heart2heart@covet.work or texting us at 516-399-0036 with your desires!

Customer Support- Live support available 24/7 for all your needs. If something goes wrong with your order, we own it and spare no cost to make it up to you.


Shouldn't it have always been this easy?
Covet- Fast Local Delivery 1.0.18 Update
We are now offering FREE 20 minute delivery! We made a whole lot of exciting changes in-app, and revamped the entire experience to cater to all your daily cravings and essentials.
-Exclusively servicing select areas in Queens, NY, but we're quickly growing!
More