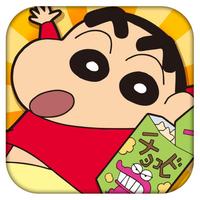 CRAYON SHINCHAN RUNNER!!
Free Get
Screenshots for iPhone
More Screenshots for iPad
CRAYON SHINCHAN RUNNER!! Description
"Crayon Shinchan" now has his very own Jump-Action Game, simple enough so anyone can play it!
Of course, the Nohara Family and everyone from the Kasukabe Defense Corp makes their appearance in the game, as well as tons of characters from the Shinchan movies!

FEATURES
● Controls can't be more simple! You just need to touch any spot on the screen!
● As Shinchan vigorously dashes onward, dodge obstacles and gather sweets by tapping the screen!
● Gather medals as you dash on, and many amazing things will be waiting for you!
● It's possible to collect new costumes and gather your buddies from the Kasukabe Defense Corp!
● Compete in real time through "Battle Run", and obtain items through reward raffles!

STORY
Something strange is up in the Kasukabe Neighborhood. The streets are littered with sweets! Candy, donuts, cakes and even chocobi are everywhere!
As Shinnosuke rushed outside, full of excitement, a mysterious flying object took off, spreading sweets all around.
"That must be the rumored UFO from the Chocobi Planet! They came all the way from the Chocobi planet to see me!"
As Shinnosuke thought this to himself, his chase after the UFO began!

SUPPORT
Required OS environment: iOS 8.0 or higher (iOS 9.0 or higher recommended)
*If you fail to launch the application, reboot your device and try running the application with the least amount of other applications running simultaneously.