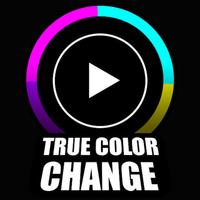 Crazy Color Ring
Free Get
Crazy Color Ring Description
More fun than switch color!
Control the color ball!

True color change is a new style game which has different twist like you've never seen. The ball bounces in the circle, but instead of you controlling the circle like most color switch style games, you control the bouncing ball while the circle is rotating and colors switch from one to the other. Easy? Of course not! The ball will going faster and faster! You need extra concentration to reach a high score.

While the spinny circle is spinning, make sure you only let the colored ball bounce on the right color of the spinny circle. It's very simple to play but addicting and hard to master! Use your eyes, ears, and reflexes to keep the ball color match within the spinning circle color. This is like Dot in Circle meets Color Switch. You HAVE to try it!
Try to time it so that the ball hits the circle when the colors match.
Think you've mastered the dot in color switch challenge? Think again! The circle will begin moving and spinning faster and faster.

Tap the screen to bounce your color block up and down.
Pass through the correct colors to score points - but avoid hitting wrong colors or hazards, or else it is game over!
Crazy Color Ring 1.0 Update