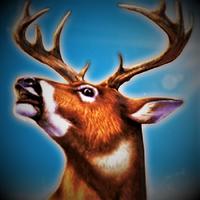 Crazy Deer Hunting Game: A Deer Hunt Shooting Game
Free Get
Screenshots for iPhone
More Screenshots for iPad
Crazy Deer Hunting Game: A Deer Hunt Shooting Game Description
Looking for crazy deer hunting by the deer hunter but feeling not enough challenged in sniper shooting? This deer hunter crazy deer hunting game is going to test the sniper game skills of the deer hunter and challenge you to maximum in sniper shooting. The wild life sniper shooting challenge is best for hunting deers and using sniper is no doubt going to give you the best sniper shooting challenge of your life in this game.

Background story of Crazy Deer Hunting:

Kool Games has now successfully deployed our soldier in multiple hunting games as our soldier can never stay away from sniper shooting challenge of hunting games. Our soldier also loves to spend his life in the wilds now for hunting games and has also become a true sniper rifle shooter of hunting games.

What is this endless dear hunting game about?

This dear hunting game is all about the deer hunt of the dear hunter for sniper rifle shooting. This dear hunting game has different deer hunt arenas where each deer hunt arena has unlimited dear hunter levels and each dear hunter level has a set dear hunting mission for you. This is actually an endless game having unlimited dear hunting levels for each dear hunter arena. In order to achieve your objective of hunting deers you just have is to do rifle shooting to hunt them in this dear hunter game.

How to play these hunting games?

You will have your sniper rifle on you for the deer hunt as you try to become a professional wild life hunter. You need to use the sniper rifle in following manner for the deer hunt:-

1. For rifle shooting, click on the Zoom-Enable button in left bottom corner of the screen

2. Once you have enabled zoom, a bullet button will appear on the right bottom corner of the screen in sniper gun shooting game

3. You can click the bullet button for rifle shooting in this hunting deer game

4. Aim well and hunting deers will be very easy in this sniper hunter game

5. Touch the bullet button for hunting deers in this sniper gun shooting game

6. As this hunting deer game has unlimited levels so accomplish the mission set for a certain level to successfully unlock next level

7. Once you have cleared a level in this sniper gun shooting game, you can always come back and give it another shot to better your previous mission completion time

Why this endless sniper gun shooting game by Kool Games?

Following is the list of salient features which make the rifle shooting a pleasure in this hunting deer game:

1. Totally Free: This hunting deer game is totally free to play but you can spend money to remove ads or to buy weapons or to unlock arenas

2. Extremely delightful graphics: This sniper hunter game has awesome graphics which are very pleasing for your eyes and mind. The graphics are high quality as well as very smooth so you are going to have your best gaming experience while playing this greatest sniper gun shooting game of year 2016

3. Top Quality Fun: Its great fun to play this hunting deer game as the challenge keeps on getting tougher and tougher with every cleared level. The aim to get better and better helps you keep going until you are at the top of the world in this sniper game

4. Realistic Missions: The missions in this sniper hunter game are very realistic and they keep you fully engaged. Each mission is time bound with a specific kill target to keep you focused in this sniper game

5. Player Feedback Incorporation: We at Kool Games are at all times looking for your feedback and try our best to make your gaming experience more and more interesting

Who should play this endless sniper hunter game?

Anybody who loves to hunt for fun or want to become a professional sniper hunter should play this sniper game and establish the basic skills in the simulating environment mapping to the real wilds.

When to play this endless sniper game by Kool Games?

Whenever you have free time, just pull out your sniper rifle for hunting deers and enjoy playing this great game by Kool Games.

ENJOY & Thanks!