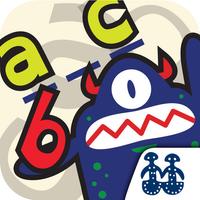 Crazy Word Monsters
Free Get
Screenshots for iPhone
More Screenshots for iPad
Crazy Word Monsters Description
It is far more attractive and easy to learn with gamified digital learning materials for today's children. Crazy Word Monsters enable children to bond with letters and words in a different way providing an entertaining drill and practice experience.

Children's cognitive capacity and attention skills are major factors that determine success at school. Academic success increases for children that can focus and maintain attention to a stimulant and improve to ignore other stimulants.

Crazy Word Monsters is a game that improves Visual Discrimination and Visual Sequencing within the scope of Visual Perception Activities

Visual Discrimination Activities (Categories 1 and 2 in the game)

Objectives are;

• To focus on a specific letter and find the missing letter among letters and
• To improve visual perception, attention span and maintain focus.

Visual Sequencing Activities (Categories 3 and 4)

Objectives are;

• To order jumbled letters so to obtain a meaningful word and
• Improve judging, reasoning and sequencing skills.

What are the achievements?
• Children learn words with pictures and expand vocabulary,
• Learn the correct spelling of words.


How do special children benefit from the game?

Crazy Word Monsters, which is a game designed considering the needs of the children coping with Dyslexia (Reading/Special learning disability) is developed in an entertaining way using Dyslexia typeface. Dyslexia causes difficulty with reading, spelling and writing. This disability is independent of IQ. Generally, Attention Deficit Disorder is along with Dyslexia. Therefore, it'll help children with attention deficit and learning disabilities.

Our game is developed in an entertaining way, taking into consideration the educational treatment principles so to improve learning and attention skills.

Gemini Information Technologies Inc., along with the project 'Aktif Kitaplar' (Active Books), have been aiming to enable children practice and reinforce what they learn at school and make it permanent with gamified applications that's been developed since 2012.
Crazy Word Monsters 1.0.2 Update