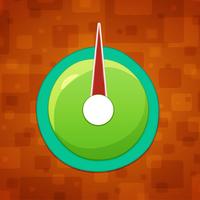 CrushOMeters
Free Get
CrushOMeters Description
Crush-O-Meter

Are you feeling something special for someone? But do you have any ideas that what does his/her friend think about you? Calculate your crush's love percentage and your love compatibility with the most popular with HD quality images crush o meter apps for free. How strong is your relationship and what does your crush feels about you and what is the chances of its success?

This is a simple love test which displays love percentage based on their images. Pick your image and the image of your partner/lover/crush to find love compatibility & chances of successful love relationship. Use this love meter app before valentines day to find out if your relationship is meant 'forever' or destined to fail.
This Crush o meter app is for entertainment purpose only!

Features of "Crush O Meter" Match Maker App for iPhone:
- Check what your friend, colleague and neighbor think about you and how much your beloved cares about you by downloading this simple and easy to use love calculator test
- Get this free compatibility test love meter and have fun with your loving one and your friends
- See with whom you can make a perfect match or not
- You can share your result with your friends through Facebook
- Your relationship status will be shown as your result

Our HD quality love mobile app works great on smartphones or any other devices that support love game or love test game. This version is fully functional and this love meter is a valentine app. However this is already tested on a lot more devices. Use this love testing application to know the loving similarity with your partner together with the result you will see a sentence complemented by a message. There is nothing better than to feel this happiness of search of a loyal partner and being together for thousands of years. Based on the experience of dozens of generations and the latest crush meter methods similarities between two individuals are calculated. Sometimes the heart feels something special for someone and wants to speak to them, but some people can't able to say that magical words whatever you want to listen or maybe you don't even know about his thoughts well-chosen words are really necessary, love meters and calculators always come convenient in such situations! Together, it speaks not only to your heart, but the heart of ones we love.

The compatibility test of two person based on their images of their crush, with love o meter application you can do fun with your friends, buddies and your valentines because really just appears a random number. This will help to calculate the probability of a successful relationship between you and your crush or your valentine by entering your and their image as well in the provided section.

Note: Please rate us and provide us your valuable feedback as we are constantly making efforts to bring you with more nice apps.